Invisalign Aligners: Treatment, costs, and why you should get them
What are Invisalign aligners?
Invisalign aligners are clear, plastic trays that snap over your teeth. They're made using 3D imaging technology and are custom-fit to your smile.
Invisalign is an alternative to metal braces that uses a series of clear, removable aligners to straighten your teeth gradually. Each set of aligners is worn for about two weeks before being replaced by the next in the series.
What is the cost of clear aligners?
The cost of clear aligners can vary depending on the alignment issues' complexity, the treatment plan's length, and geographic location.
On average, most people in the United States can expect to pay between $3,000 and $5,000 for Invisalign treatment. The treatment plan usually takes six to 12 months, but more extensive plans can take longer. Insurance may also cover some costs, while dentists and orthodontists offer payment plans. Additionally, some retailers may offer promotional prices or discounts.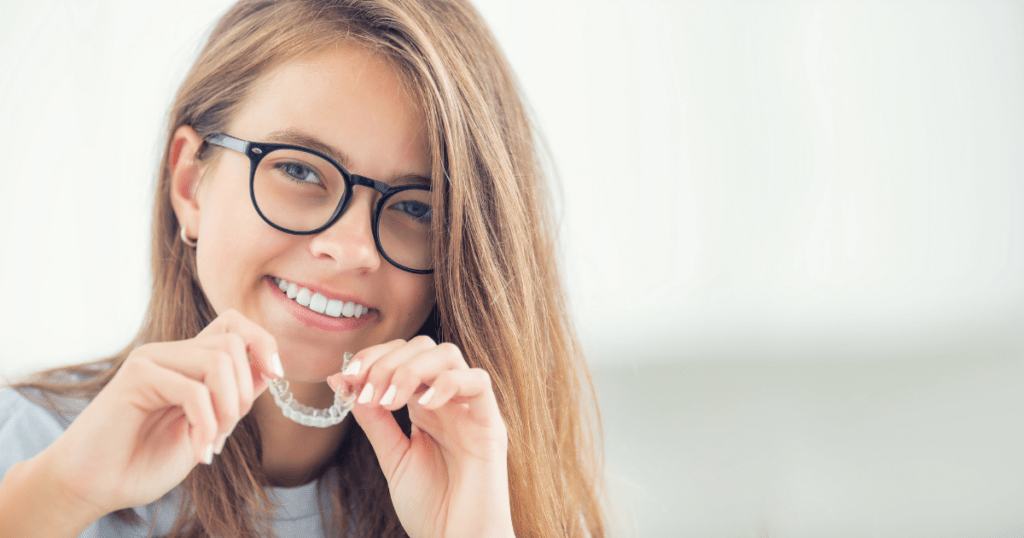 The benefits of using clear aligners
Invisalign is a popular alternative to traditional metal braces. Unlike braces, clear aligners are barely noticeable. They are also removable, so you can eat and drink whatever you want without worrying about damaging your orthodontic treatment.
But Invisalign is more than just a cosmetic dentistry option; there are many benefits to using clear aligners over traditional braces. Here are some of the key advantages:
Straighten teeth without the visibility of metal braces
If you're looking for a way to straighten your teeth without the visibility of metal braces, clear aligners may be a good option. Invisalign is a type of clear aligner that is virtually invisible when worn. Treatment with Invisalign generally takes about the same time as traditional braces, and the cost is similar.
Easier to maintain oral hygiene
Using clear aligners can improve oral hygiene by helping to straighten teeth and improve the alignment of the bite. This can reduce the number of bacteria around the teeth and gums, reducing the risk of tooth decay, periodontal disease, and chipping, breaking, or wearing away of the teeth.
Less discomfort during treatment
Using clear aligners can help reduce discomfort during treatment by providing several advantages compared to traditional orthodontic options. The smooth plastic material of the aligners won't irritate your cheeks or gums, and they are virtually invisible. Clear aligners are also removable, allowing you to eat, brush, and floss like normal.
Faster treatment than braces
Comparing the speed of treatment between Invisalign and braces, Invisalign is typically faster than braces. While the skill and experience of the specialist Orthodontist can affect the speed of treatment of both options, on average, treatment time can be faster with braces than with Invisalign.
Greater convenience
Using clear aligners can increase convenience in several ways. Firstly, due to the aesthetic factor of using clear aligners, they are much less noticeable than wires and brackets of braces, which can make the process more comfortable.
Ability to adjust aligners as needed
The ability to adjust clear aligners helps by allowing for more precise tooth movements tailored to each patient's specific needs. With each set of aligners, the pressure applied to the teeth can be adjusted and fine-tuned to ensure that the teeth are moved into the desired position. This allows orthodontists to guide teeth movement accurately and predictably, resulting in a more successful outcome.
Improved self-image
Using clear aligners to improve self-image can be beneficial in many ways. The aligners are virtually invisible, so adult patients don't have to worry about colleagues and clients noticing that they are undergoing orthodontic treatment, and self-conscious teens feel better about not having to deal with comments about their new braces.
Less distraction in social situations
Using clear aligners can provide a great advantage in social situations since they are much less noticeable than traditional braces. With Invisalign, the aligners are made of clear plastic, making them virtually invisible when worn. This gives the user more confidence and allows them to interact with others without feeling self-conscious about their appearance.
Cost savings compared to traditional braces
Using clear aligners can save money compared to traditional braces in a few ways. For starters, with Invisalign, you won't have to worry about purchasing additional supplies for your braces, as the aligners come ready to wear.
Improved results and compliance rates
Using clear aligners can improve results and compliance rates in orthodontic and restorative dental care. The system has been designed to move teeth with 75% more predictability than traditional braces, thus providing improved clinical predictability and successful results. In addition, the aligners are made of a flexible material that fits snugly around the teeth, ensuring greater comfort for the patient.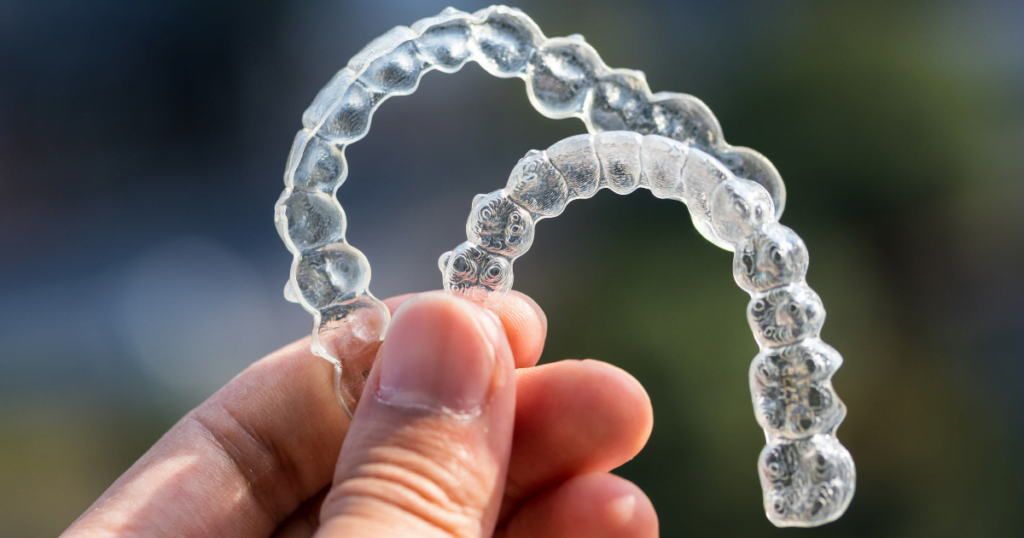 How to use Invisalign?
Invisaligns are a clear alternative to metal braces for adults and teens. These clear aligners are virtually invisible, so you can smile more during treatment and after.
Not only that, but Invisalign allows you to eat whatever you want and brush and floss normally to maintain healthy gums and teeth! You also have fewer office visits than with traditional braces.
While wearing Invisalign may be appealing, patients often wonder about the steps involved in treatment. Here is a brief overview:
Step 1: Choose the right type of Invisalign aligner for you
When deciding which aligners are right for you, you must consider your specific orthodontic needs and lifestyle. Traditional aligners are best for those with mild to moderate crowding or bite issues which can commit to wearing the aligners for at least 22 hours per day.
Step 2: Get your aligner fitted
After an orthodontist has assessed you and determined that Invisalign is right for you, the next step is to get your aligner fitted. The process is simple, starting with a mold of your teeth.
Your orthodontist will take an impression of your teeth, which will be used to create a 3D model of your mouth. From there, the orthodontist will develop a tailored treatment plan for you.
Step 3: Start wearing your aligners
Now that you have your Invisaligns, it's time to wear them! Here's a quick guide on how to use your aligners:
Wash your hands: Make sure your hands are clean before handling your aligners.
Insert the aligner: Gently insert the aligner into your mouth, making sure that it fits snugly against
Step 4: Keep wearing your aligners for the full treatment duration
When using Invisalign, it is recommended to wear your aligners for 20 to 22 hours a day for the best results. To achieve an amazing smile in the shortest time possible, it is recommended to wear the aligners 22 hours a day.
Before beginning treatment, your dentist or orthodontist will do an oral exam, take dental X-rays, and use the iTero Element scanner to generate a custom teeth-aligning plan. Your dentist or orthodontist will then order a series of computer-generated rigid plastic aligner trays, which you must wear for the duration of your treatment plan, except when eating.
The trays will gradually move your teeth based on your digital scans, and you should switch out your aligners for a new set about once every week or two. With proper use and care, Invisalign can help correct crooked teeth, overlapping teeth, crowding, gaps between teeth, and misaligned and malpositioned jaws.
Step 5: Take care of your aligners
Now that you've got your new Invisaligns, it's time to learn how to use them! Here are a few tips on how to take care of your aligners so they can take care of your teeth:
Clean them regularly. Just like your teeth, your aligners need to be cleaned every day. Use a soft toothbrush and mild soap to clean them, and rinse them well.
Don't forget to brush your teeth! Even though your aligners are doing most of the work, you still need to brush and floss your teeth twice a day.
Wear them as much as possible. Invisaligns are meant to be worn all the time except when you're eating or drinking. The more you wear them, the faster your treatment will be.
Keep them in their case. If you're not wearing your aligners, keep them in their case. This will help to keep them clean and prevent them from getting lost.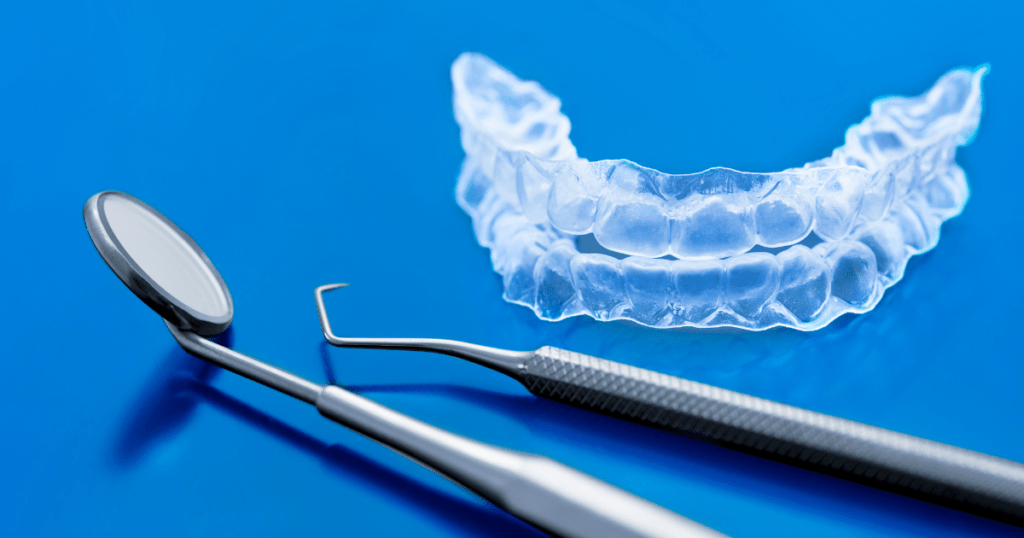 Costs of using Invisalign
While Invisalign is a great way to achieve straighter teeth, it's important to be aware of the costs involved before you start treatment.
Invisalign treatment typically costs between $3,000 and $8,000, depending on the severity of your case. However, many dental insurance plans will cover part or all of the cost of Invisalign treatment.
If you're considering Invisalign but are worried about the cost, talk to your dentist or orthodontist to see if it's viable.
Consultation with the doctor
Invisalign offers a free, 40-minute in-person consultation with an orthodontist ($150 value) at one of their studios. Alternatively, you can call us now to make an appointment at a location near you and receive a complete exam & X-ray for only $39.
Orthodontic treatments
As orthodontic treatments can vary in cost depending on the device used, it's important to understand the differences between invisible braces and Invisalign. Invisible braces, or traditional braces, typically cost around $3,000 to $7,000 and may require frequent adjustments and additional office visits.
On the other hand, Invisalign typically cost around $4,000 to $8,000 and can be adjusted from the comfort of your home. Both treatments may be covered by insurance, but it's important to check with your provider to understand the details of your coverage.
Material for retainers
For Invisalign aligners, the material needed is SmartTrack, a patented thermoplastic material developed by Align Technology specifically for Invisalign. This material is BPA-free, thin, and designed to fit your unique smile. It is also easy to take on and off and more comfortable and gentle when worn in the mouth.
Night guards
A night guard is a cost-effective way to protect teeth from grinding and other nighttime activities that can damage teeth. Both Invisalign aligners and dental braces can be used with night guards.
Invisalign aligners provide a more aesthetically pleasing alternative to traditional braces but require extra care and attention. The cost of night guards for Invisalign can range from $50 – $400 depending on the type of night guard and the length of treatment.
In comparison, night guards for dental braces may be slightly cheaper. Depending on the type of night guard, they can range from $20 – $250.
Expenses for X-rays and scans
Invisalign uses X-rays and scans to create precise 3D digital images of your teeth that map out a precise treatment plan. The costs associated with taking X-rays and scans with Invisalign vary depending on the misalignment's severity and the treatment length. In most cases, a complete exam and X-ray can be done for only $39.
Additionally, Invisalign offers flexible monthly payments with no money down, insurance coverage, and the ability to pay with pre-tax dollars from an FSA/HSA. Furthermore, those with health savings accounts may qualify for $500 off their treatment. A 40-minute, in-person consultation with an orthodontist is also free, a $150 value. Invisalign is an affordable treatment option that can be tailored to fit your budget.
Paying the dentist
The cost of Invisalign treatment can vary depending on several factors, but the average price is around $5,000. This may seem like a lot of money, but it is important to remember that Invisalign is a medical procedure and should be treated as such.
FAQs
Here are some of the most frequently asked questions about Invisalign:
How much is Invisalign without insurance?
Invisalign is a type of clear aligner orthodontics used to align teeth and achieve an aesthetically pleasing smile. The cost of Invisalign treatment can range from $3,000 to $5,000, depending on the complexity of tooth alignment issues, how long treatment takes, and where you live.
If you don't have insurance coverage, many dentists and orthodontists offer payment plans for the care they offer. If you have a Flexible Spending Account (FSA) or Health Savings Account (HSA), you may also be able to use it to pay for some of the costs of Invisalign treatment.
Are Invisalign aligners better than braces?
Are Invisalign aligners better than braces? This is an important question to ask when considering an orthodontic treatment option. Both clear braces and Invisalign clear aligner offer a more discreet solution than traditional metal braces, but they are quite different from each other.
Braces can achieve a better result than Invisalign, as they have more force to move teeth into the desired position. Invisalign is limited in terms of how many teeth can be moved simultaneously.
When it comes to advantages, Invisalign clear braces are more discreet than regular braces, they provide more precise tooth movement than traditional braces, it is easier to maintain good oral health with Invisalign, they are more comfortable than metal braces, and treatment time is often shorter with Invisalign.
Can you drink coffee with Invisalign?
Yes, you can drink coffee with Invisalign! Since the aligners are removable, you can take them out when you eat and drink. This means you can enjoy your favorite foods and drinks, including coffee, without worrying about breaking or damaging your aligners.
How long does Invisalign take to work?
Invisalign typically takes an average of 12 to 18 months to work. For best results, Invisalign aligners should be worn for 20 to 22 hours daily. This means taking them out only to eat, brush, and floss.
The complexity of the orthodontic issues and the age and sex of the patient can affect the effectiveness and treatment time of Invisalign. Some people may see results in as little as six months.
Does Invisalign change your face shape?
No, Invisalign does not change the shape of your face. Invisalign uses a 3D scan of your teeth to create customized aligners that shift your teeth into the desired position. This is done gradually and carefully to help straighten your teeth without changing the shape of your face.
Invisalign is an effective orthodontic treatment option, and it can improve your smile and overall facial appearance without altering the shape of your face.
Can Invisalign cause gum recession?
Invisalign can cause gum recession due to the pressure of the aligners on the gums. As Invisalign moves the teeth into their desired positions, it puts pressure on the gum tissue, which can cause receding gums. And because Invisalign aligners are made of a special plastic fitted to each patient's mouth, they can cause more discomfort and pain than traditional braces.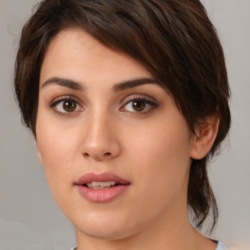 Latest posts by Harley Carr
(see all)